STM Goods Dux Bluetooth Keyboard Case with Trackpad for iPad 10.2"
Regular price
₱5,990.00 PHP
Regular price
Sale price
₱5,990.00 PHP
Unit price
per
Sale
Sold out
STM's legendary Dux case now comes with a keyboard, the perfect addition to a product line that has long been the industry standard for maximum protection with minimal bulk. Featuring rugged construction—using some of the lightest materials available—to safeguard your device from the rigours of the classroom environment, Dux also boasts a clear panel design that makes it easy to scan tags or barcodes on a device (with no need to remove the case).
We believe good enough isn't good enough
So, we make it a point to go above and beyond—even in the way we test our products. Military standards for drop testing require that a product like Dux be able to maintain all operating functions after plummeting 26 times for a height of 4 feet. We subjected Dux to our own extreme testing at 6.6 feet. It passed. And that calls for the best drop of all…a mic drop.

Our locking keyboard is a greater attraction than

 

a magnet
It's one thing for your keyboard to be firmly attached to your laptop when sitting atop a desk. But entirely something else to remain secured when carried in your backpack. Because we understand that part of the reason you have a laptop is the ability to be mobile, we designed our keyboard so it won't detach while in your bag (a primary cause of damage to the screen). Our push button release ensures a more reliable connection than a magnetic one.

Because sometimes you just can't buy a (missing) vowel
If only it was easy enough to ask Pat for the letters you need…to replace the ones that go missing from a keyboard. By designing individual keys that are securely locked into place, we've eliminated the opportunity for idle hands to mess around and tamper with digital gear they don't own but is in their possession. (Of course, they would never do such a thing, right?
Keep either your pencils or crayons safely and conveniently stowed in the space cleverly designed for both.
You'll flip for this feature that flips for you
The Dux keyboard can fold 360° around the back of the case so you can lay your iPad on top of it. This simple reversal gives you the ability to use your digital device in its more traditional method—sans keyboard—without the need to detach anything. Don't worry, keys automatically deactivate in this position (and will reactivate 3-4 seconds after being returned 360° in the other direction).
Smart Features:
Designed to exceed U.S. Military Spec 810G drop tests (for iPad protection)
iPad installs quickly and easily; no pairing required
Keyboard attaches directly to the iPad 3-pin connector; can be securely locked in and removed with push of a button
Slim, lightweight polyurethane-covered keyboard is splash-proof and easily wipeable
Keyboard keys are locked in to prevent rearranging or removal
Exceptionally thin (.95") to work with most charging carts
Stable stand provides almost 180° range for various screen angles or to use as a handle for teacher demonstrations
When case is folded flat 180°, keys automatically deactivate (and reactivate 3–4 seconds after it is unfolded)
New Smarter shortcut keys added for Siri and Screen Capture
Share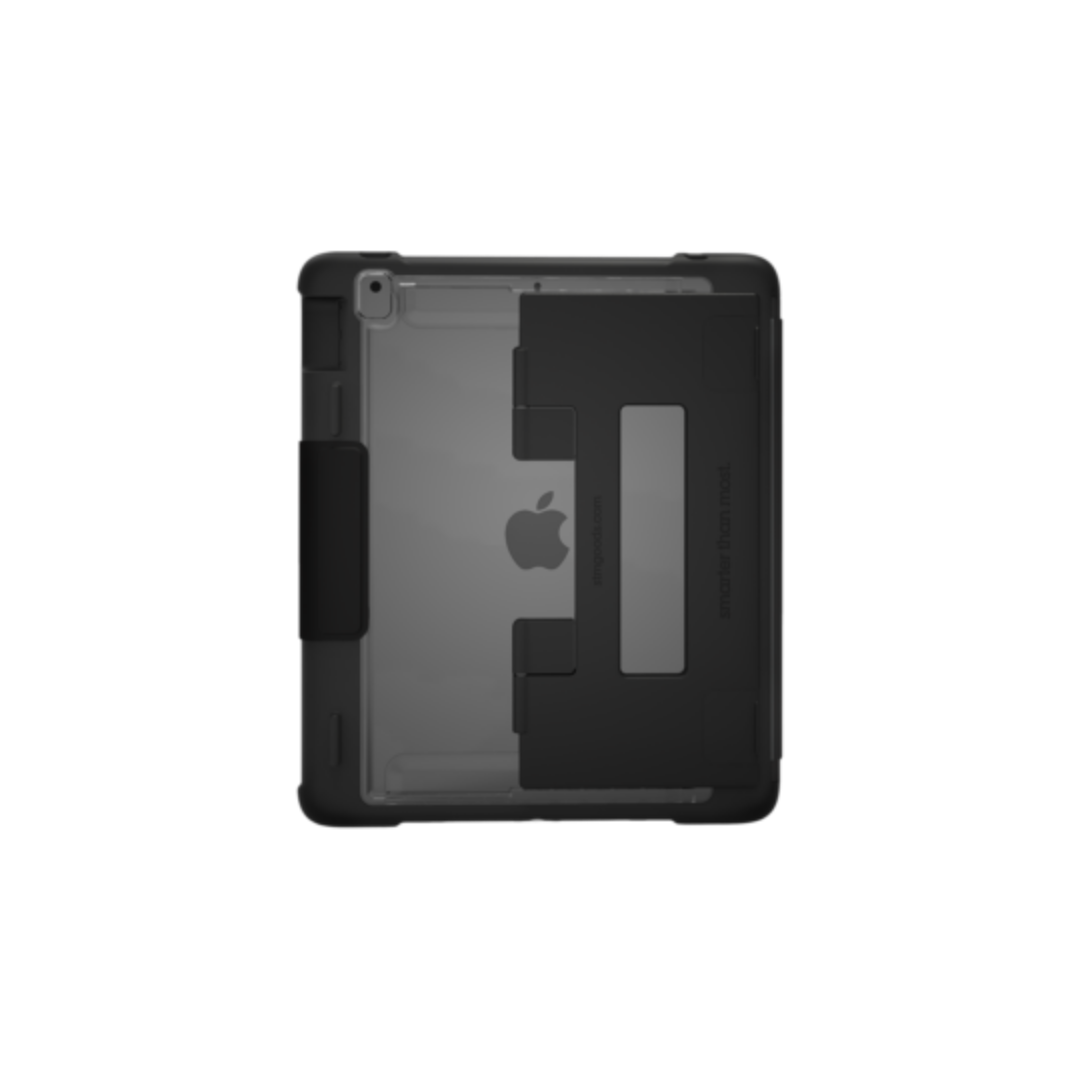 Carefully Selected Products

Committed to Customer Service

Secure Payment Processing